Chartered Tours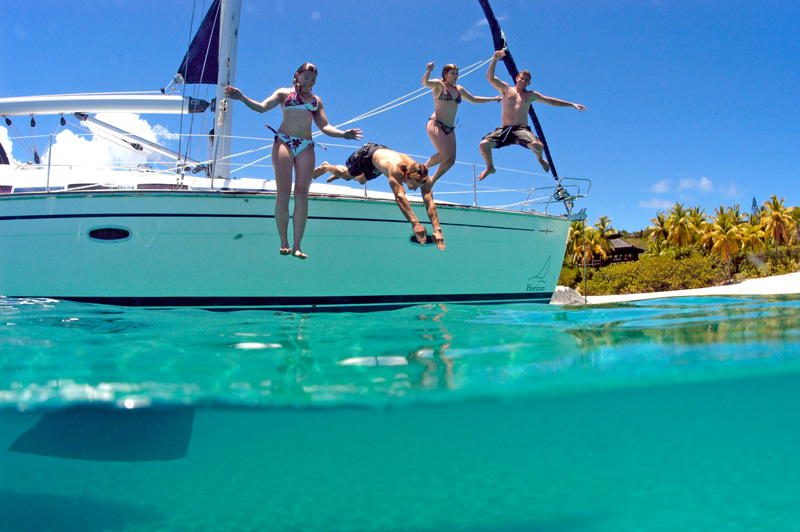 New Horizons is a company that offers unforgettable chartered excursions through the British Virgin Islands. Drinks and a personable tour guide are included. The boat makes stops at Virgin Gorda, where you will hike between enormous boulders unlike any in the world, and spend some time at a gorgeous beach. You will visit an even prettier beach at the Island of Jost  Van Dyke, and snorkel a colorful reef off the shore of a third island. Also included in the excursion is a lunch on a tiny island with virtually no building except for the tiki-styled restaurant.  The food there is very good and reasonably priced. Every guest we know who has done this charter has absolutely loved it! Passports are needed. This company also offers day sail excursions to snorkeling sites around St. John, and sunset dinner cruises. Guests of our villa receive a 20% discount for all their excursions.
Ecotours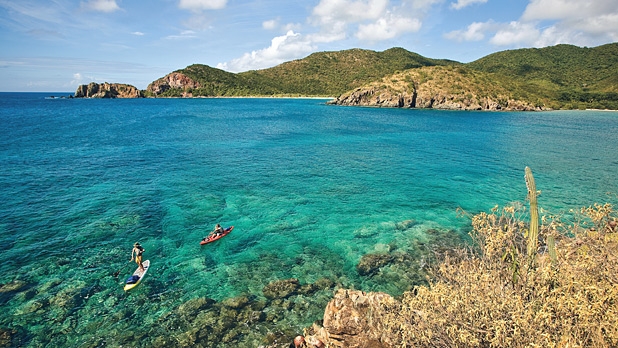 Virgin Islands Ecotours offers a variety of educational, fun and exhilarating excursions on the Islands. For example, the Mangrove Lagoon Wildlife Sanctuary & Marine Reserve is great for naturalists. History buffs enjoy exploring  Hassel Island, and Tropical Paradise lovers favor the Honeymoon Beach location at Caneel Bay. Their award-winning tours combine kayaking, hiking, and snorkeling into a neat experience, emphasizing a "leave no trace" philosophy. Our guests are entitled to a 10% discount (use promo code "EPV").
A new ecotour activity now available on the Island is ziplining, via Tree Limin' Extreme. The ride through the tropical rainforest begins from atop St. Peter Mountain, located about 10 minutes from our villa. Spectacular views of Magen's Bay, Tortola, Jost Van Dyke, and many other islands and cays are visible from there.  Admission includes rides on six ziplines and walks across  two sky bridges. Our guests are entitled to a 10% discount.
A third excursion to consider is horseback riding through the beautiful hills around Coral Bay, on the eastern side of St. John. Along the trail, there are some spots for capturing amazing photos.  The Carolina Corral has been a dream come true for Dana, its dedicated owner. She also shelters donkeys, goats, chickens, cats, and dogs there. Guests of our villa receive a 10% discount.
When our guests do make the trip to St. John, another great activity to consider is Hidden Reef Ecotours. Located minutes from the Carolina Corral, they offer the opportunity to experience some of the most pristine and secluded kayaking and snorkeling around, with fun and educational guides. Our guests are entitled to a 10% discount. The three hour tour is recommended.
A final ecotour option is biking on Water Island, a  scenic isle  just south of St. Thomas. The Island is quiet, pristine, and sparsely populated, occupying about 500 acres.  The ride ends with an opportunity to swim at a lovely beach.
Golf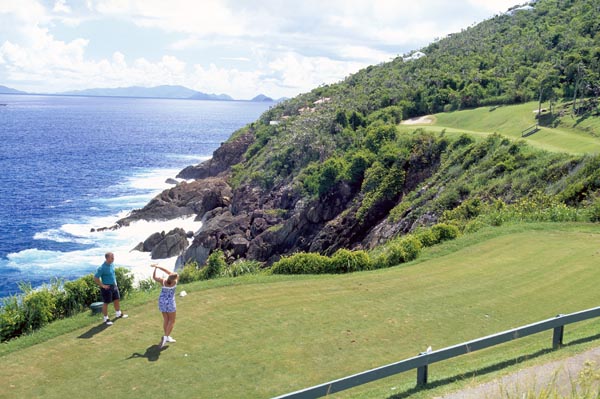 The world renown Mahogany Run golf course is only a fifteen minute drive from the villa. It has some of the most spectacular holes on the planet, as the course abuts the breathtaking waterfront border to the east of Peterborg Peninsula. The course was designed by George and Tom Fazio.
Hull Bay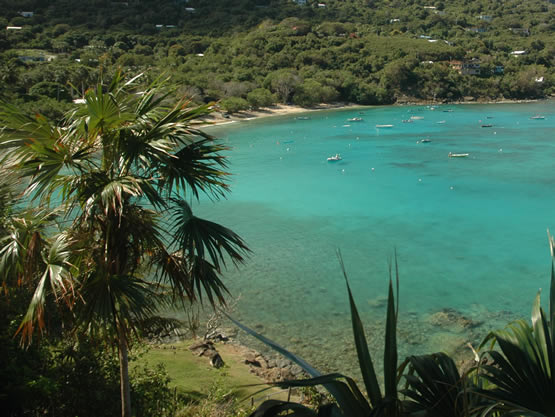 Hull Bay is the next bay to the west of Magen's Bay. It has a totally different feel to it. The geographic and climatologic distribution of islands, currents and breezes is such that  surfable swells usually exist in the west side of the bay, even on calm days. As a result, it is the most popular surfing spot on St. Thomas. There is more coral than at Magen's, and snorkeling as well as scuba excursions are available through a dive company (described below).The southern end of the bay is typically filled by the late afternoon with small boats used by sixth-generation fishermen. A great beach bar is located at the southern tip of the bay. It offers a very casual atmosphere and the freshest fish, at very modest prices. We recommend the fish tacos, the crabcakes, and Virgin Islands IPA!
Peterborg Point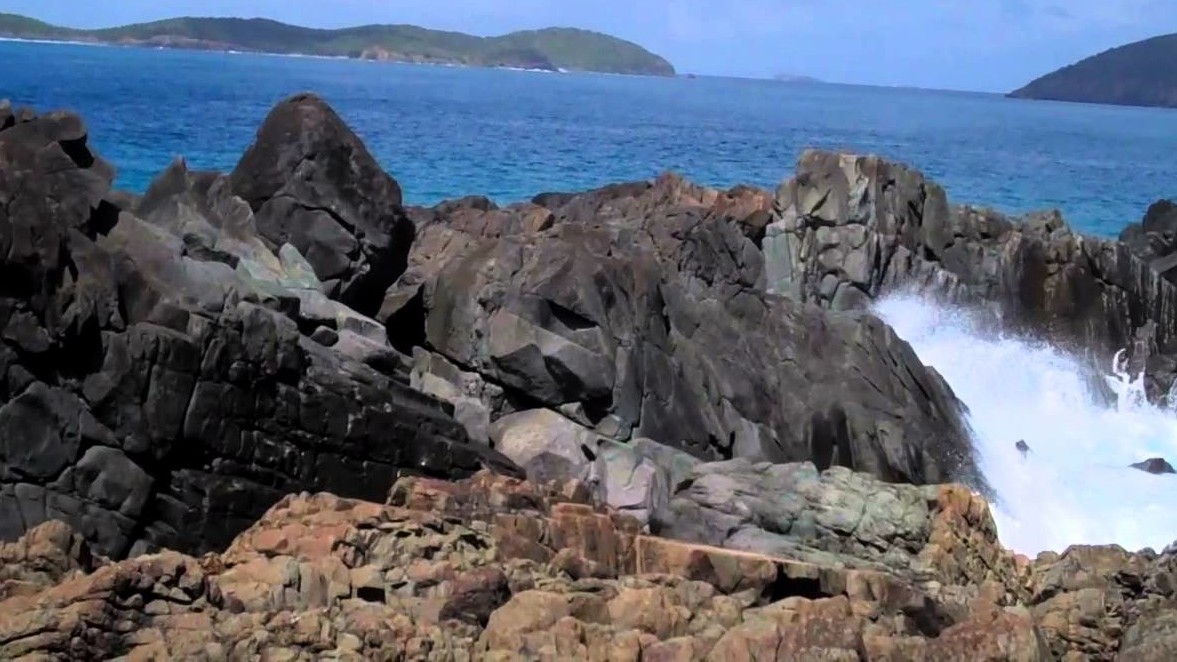 The long strip of land that sits across from our villa is called Peterborg Peninsula.  Its northern point  is but a short drive away and makes for a fun and scenic excursion. There, the rough waters of the Atlantic have chiseled away at the granite over tens of thousands of years. This has created steep cliffs and spectacular chasms that can foster thunderous splashes of over sixty feet when the surf is active. There are tide pools that can be explored. Special caution is needed due to the steepness of the elevations, the roughness of the surf, and the sharpness of the rock. The views are phenomenal, as some of the British Virgins are visible from there.  On the way back to the villa, be sure to stop at Udder Delight for an ice cream or milkshake!
Scuba Diving and Snorkeling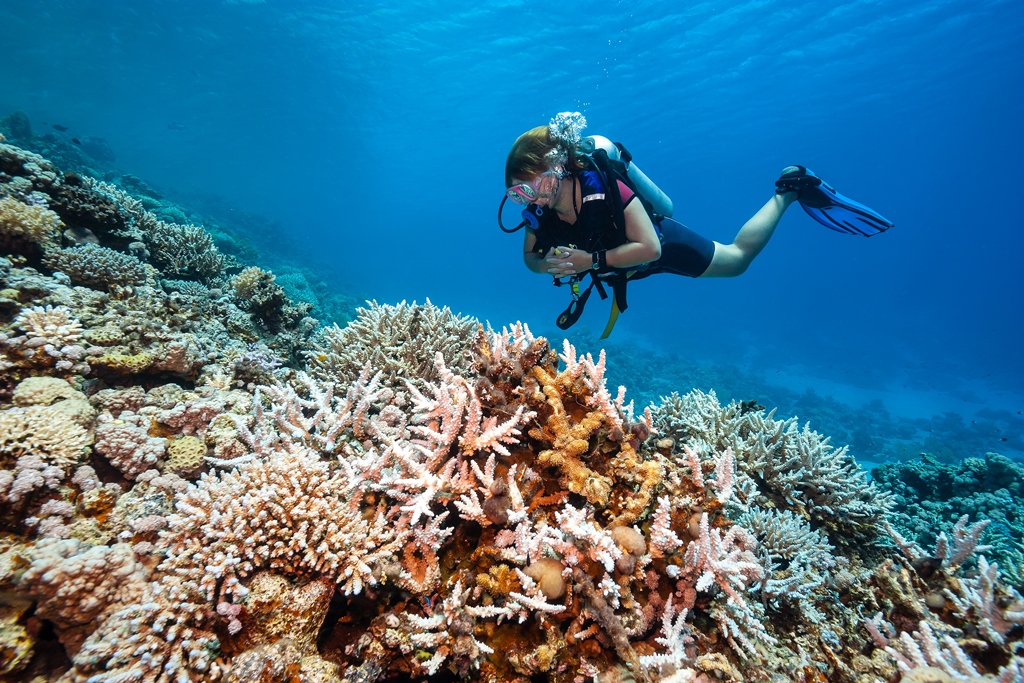 Our Island offers some of the most spectacular scuba diving and snorkeling in the world. The diversity of marine wildlife is stunning, and options for where to dive are endless. Shore dives can be done in the reef right in front of the villa or at adjacent Hull Bay. Boat dives, via powerboat, sailboat or catamaran, are readily available through a variety of dive shops and charter companies. Some of the most popular dive sites are listed by the St. Thomas Diving Club.
We have developed a good relationship with St. Thomas Scuba and Snorkel, owned by Web and his son Ian. They  are very personable guides, with a wealth of information, and are located just around the point from us on Hull Bay. Our guests receive a 10% discount on all their services and rentals. In addition, they even offer to pick up our guests right at our private beach when going on boat dives or other excursions with them!
Night dives and snorkels are available and are really neat to experience. Many marine species exhibit bioluminescence at night, and provide an impressive and unforgettable light show. Also, many species that are less active in the daylight are more easily spotted at night (i.e. moray eels, lobsters, octopi).
Shopping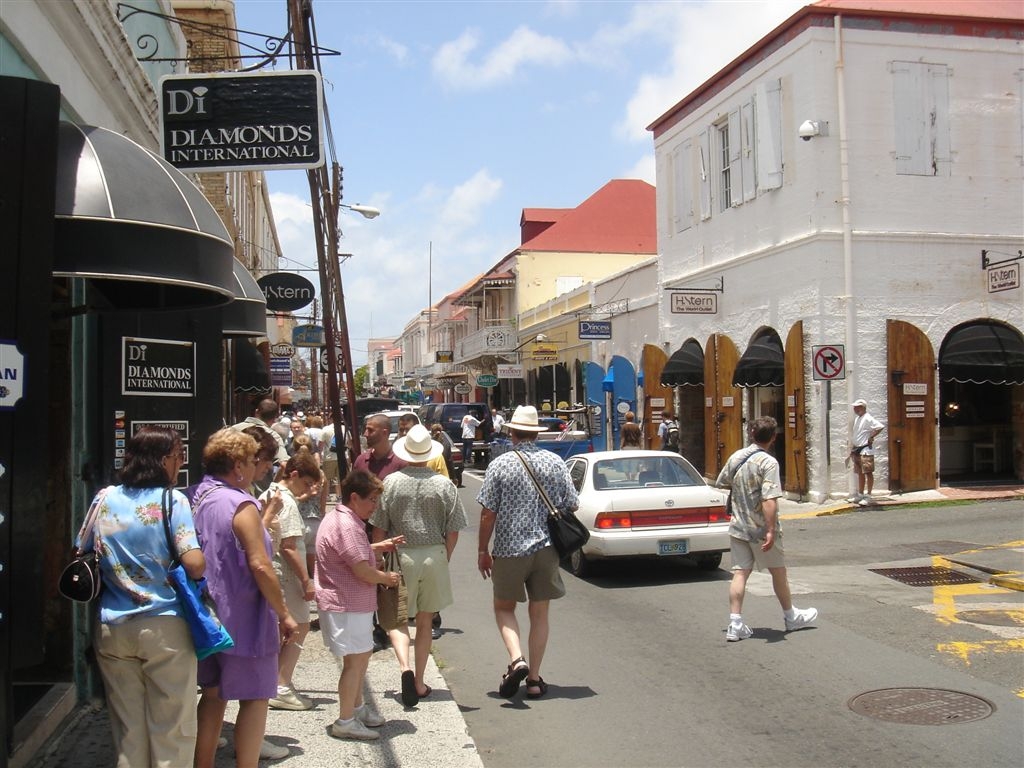 All shopping on the Island is duty free. Jewelry, perfume, watches, electronics, alcohol and tobacco are all offered at relatively low prices compared to the prices in the States.
While our villa is very secluded, it turns out that the best shopping areas are not far away because Magen's Bay is in the center of the Island's north side, and downtown Charlotte Amalie is in the center of the south side, and that is where shoppers indulge. The drive up and over the mountain takes about fifteen minutes.
Even closer is a place called Mountain Top. There one can find a vast selection of souveniers and gifts at a reasonable price. In addition, it has an observation deck that offers the most spectacular views of the Virgin Islands, both American and British, with signage to identify them. Bring cameras!
Sport fishing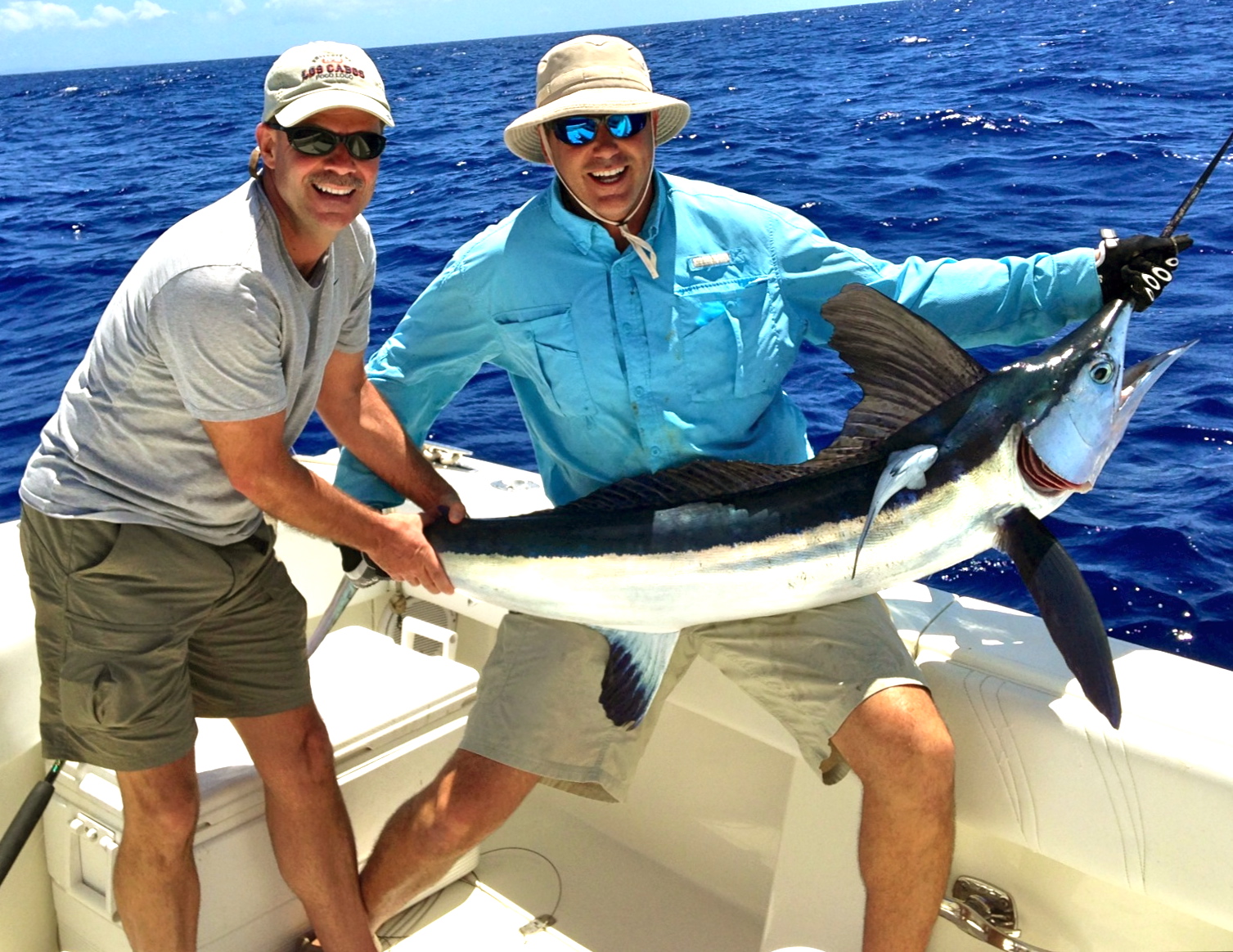 The waters off St. Thomas are known for awesome sport fishing.  Our neighbor is a native St. Thomian and an avid fisherman, and knows all the best spots to go. He is also a trophy winning spearfisherman, and a very nice guy. For those who prefer deep water to shore fishing, multiple vessels offer half-day or full-day excursions. As with the diving excursions described above, a local charter fisherman can pick you up right in front of our villa, with a bait well full of live bait and fishing poles rigged!
St John
A trip to the Virgin Islands would not be complete without a day trip to our sister island of St. John. Our villa is about a twenty-five minute drive to the Red Hook Ferry dock. Ferries are readily available to bring you and your vehicle to St. John. It is a twenty minute ride, and boats leave every hour on the hour between 7 am and 7 pm. There is great dining and shopping on this sleepy little island, along with some of the world's most beautiful beaches. Like Magen's Bay, Trunk Bay was named by National Geographic on its list of the ten most beautiful beaches in the world.  There is an underwater park in that bay that includes underwater signage to identify coral and fish species.Cinnamon Bay is also gorgeous. Almost two thirds of St. John is a U.S. National Park. Many hiking trails are available and wildlife abounds. We were amazed at the variety of tropical birds and were surprised to learn that there is a thriving white-tail deer population there. St. John is definitely not an island you want to miss.
Watersports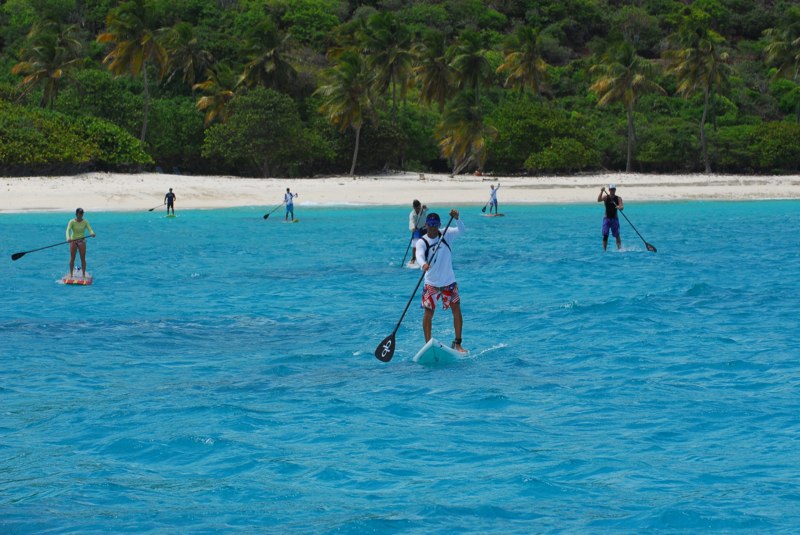 The island offers a variety of watersport activities, and rentals are readily available. So too are lessons. Popular watersports include jet-skiing, parasailing, kayaking, windsurfing, sailing, and paddleboarding. Stand-up paddleboarding is especially awesome in the waters near the villa because, as noted previously, the water tends to be calmer and clearer, and because, when standing, the laws of optics account for a much keener view beneath the surface than when sitting. A great way to enjoy the reef and get a workout at the same time!