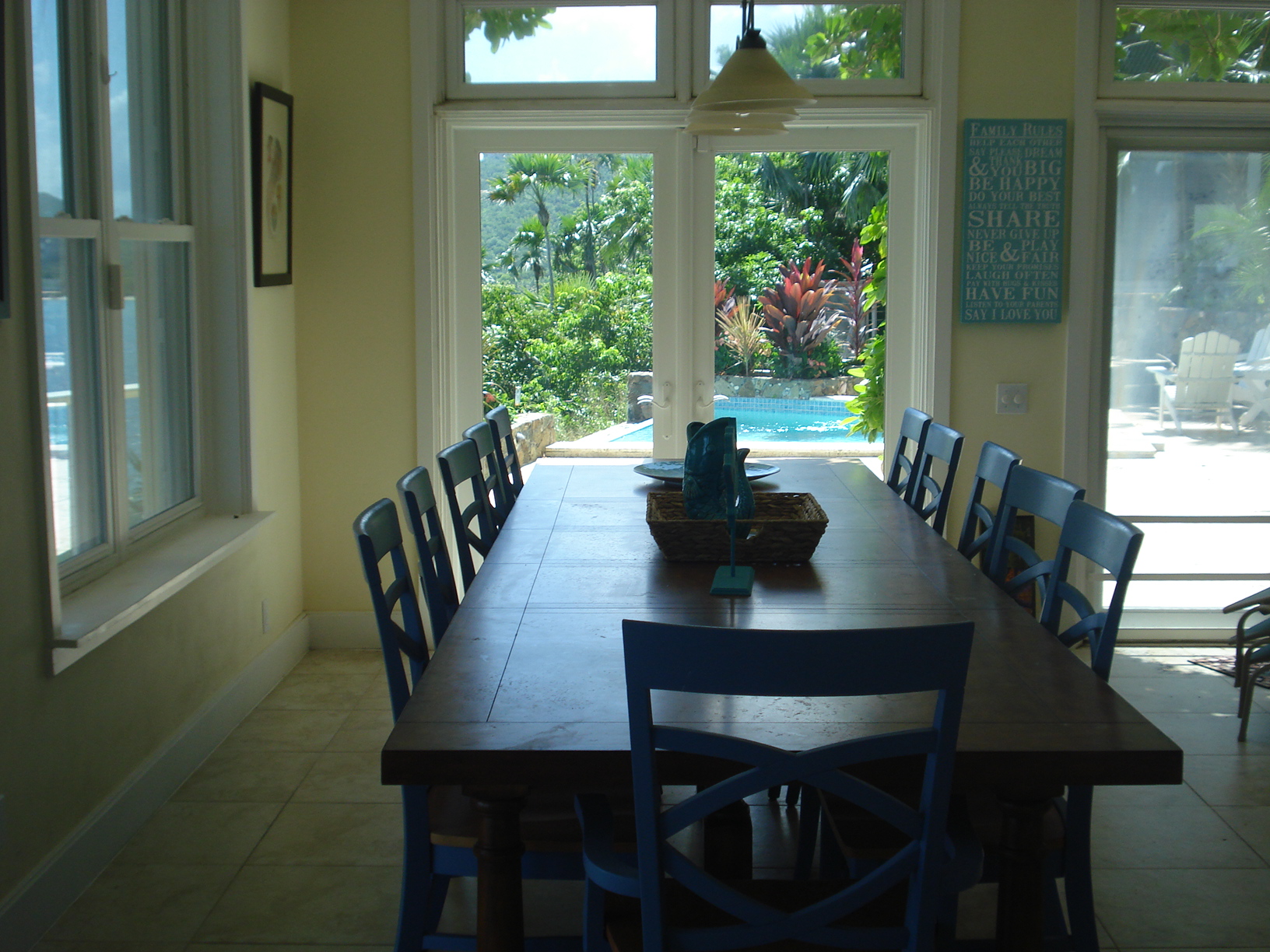 The Edge of Paradise is designed to be a family-friendly getaway destination. The villa has four spacious bedrooms, each with en suite bathrooms, and will comfortably accommodate ten people . The furnishings and artwork are reflective of a beach house decor, and the beds and mattresses are  top quality. The master suite is quite sizable, extending across the entire length of the home, and offers its most stunning ocean view. The master bath is luxurious and charming. Behind the master bedroom is a second bedroom with its own bathroom, furnished with three twin beds so that families with children can have their kids be nearby. This second bedroom also has an ocean view via an attached balcony, and a door for passage to a lovely courtyard. Versatility is prioritized,  as the master bedroom also has a sitting area with a sofa-bed that can be opened for small children, and two upscale roll out beds a closet away. The downstairs bedroom suite, which is quite spacious and has a king bed and a matching twin, has an attached porch that is closer to the ocean than any other room. The detached cottage suite, which has a queen bed, is similarly very private and inviting, and also provides ocean views. The bathroom in the former features tilework, while the latter emphasizes stone.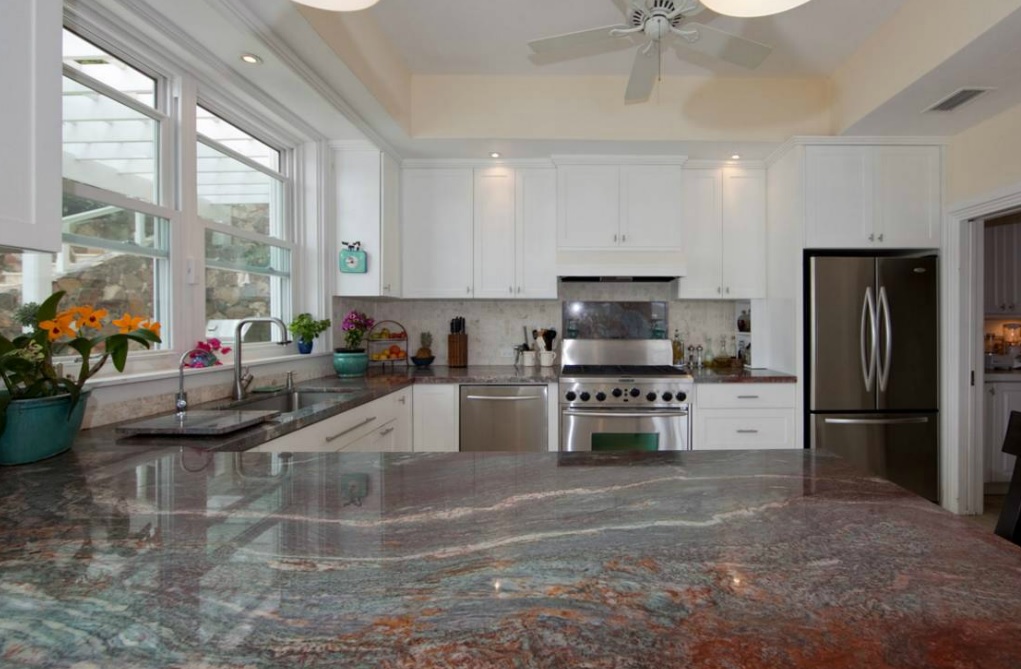 The villa has a gourmet  kitchen and an especially large farmhouse dining table to assure a large group can comfortably share meals together.  A spacious pantry attaches to the kitchen, and is equipped with useful cooking appliances and tools. Two large refrigerators allow guests the opportunity to stock up on food and drink supplies for their entire stay with one trip to the grocery store.  Alternatively, our guests can have the refrigerators filled with their choice of supplies immediately prior to arrival, for a small concierge fee. Either way, the intent is to allow our guest families to spend the most time relaxing, recreating and recharging,  and the least time driving about.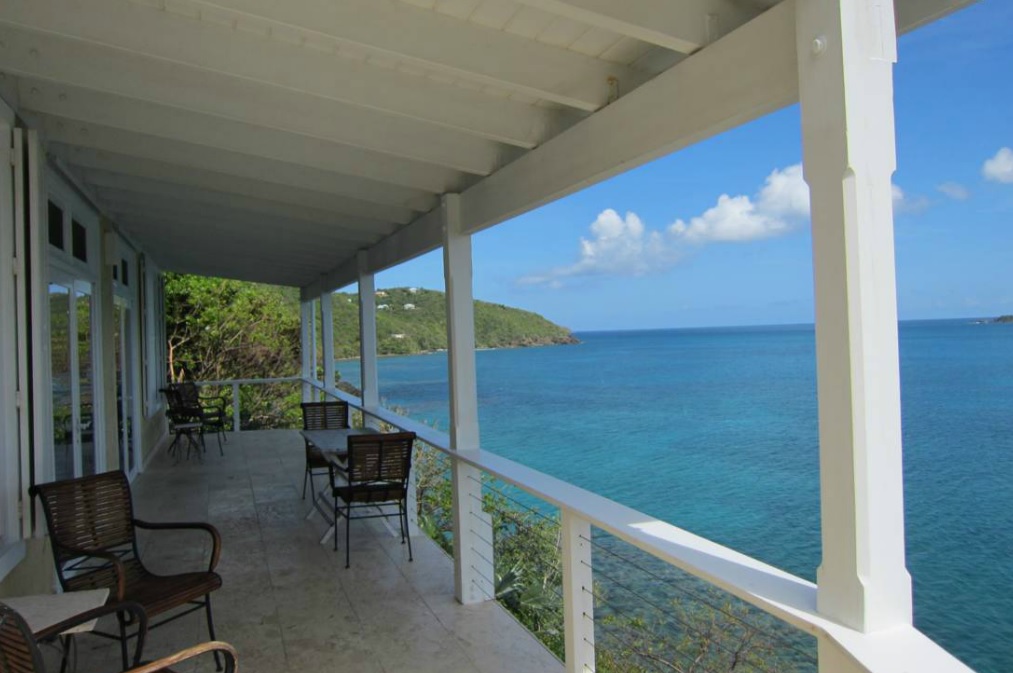 The great room has a panoramic view of the ocean and multiple french doors that allow inside and outside to mesh smoothly.  A collection of DVDs and Netflix are available for indoor entertainment on the large flatscreen tv.  An Ipod dock allows our guests to play music of their choice over the sound system. Wifi is available and cellphone reception is good for all carriers our guests have used (ATT, Virgin Mobile, and Verizon).
Just outside the kitchen is a charming oudoor kitchen which sits beneath a trellised pergola.  This secondary kitchen includes a coral stone dining table and a spectacular and versatile pizza oven. Made of native island fieldstone, this oven is powered by either firewood or propane. The outdoor kitchen also features a new stainless gourmet grill. Made by Lion, this imported grill has won accolades amongst barbeque connoisseurs for its design, and offers interior lighting for evening grilling.